Moving on from winter to spring..... The first little flower has bloomed on my hyacinth. It doesn't look as though we'll be getting any more snow at Number 38, so after seeing this I've moved on from winter and I'm in 'can't wait for spring' mode.
Moving on from crochet to quilting..... I've ordered some material for the back of my quilt. I know I should really wait until I see something in a charity shop but I just want to finish it.
Its an owl print and after putting all that effort into the stars I might as well have something I like as the backing.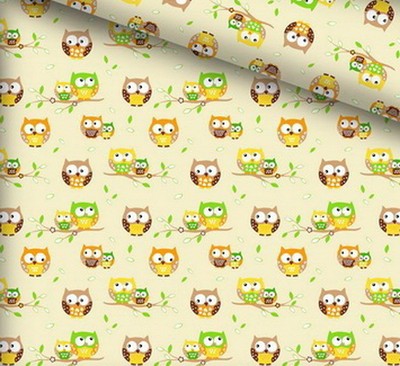 Moving on to the next quilt ..... The cutting mat has been out today and I've been cutting 6" squares for my next quilt.
I'm going to make a zig-zag one and the colour theme will be blue.
Moving on for Joan..... We went to look at a home last week which seemed very nice. It's the fourth one Mark has seen and he thought it was the best one, although the others were fine as well. The Manager went to assess Joan today and seems happy to take her. They have 2 beds available so we just need to cross a few t's and dot a few i's and hopefully in the next few weeks she'll be settled in her new home.
Moving on from a potential overdose .....When I handed Tom his oramorph last week I told him he could have either a small spoonful (2.5ml) or a big spoonful (5ml) every 4 hours.
When I saw him the next day I asked how he was getting on with the medicine. Fine, he replied, I had 2 big spoons just before I went to bed and I slept really well. I bet he did! I'm not sure which part of my instructions he didn't understand but he's lived to tell the tale.
xxx