Cirencester, also known as the Capital of the Cotswolds. This is where my sister and her family live and where we went at the weekend. It's also where Dad's job took us in 1982 and where I lived for 10 years. We moved from Oldham and I think my parents thought they'd arrived in heaven!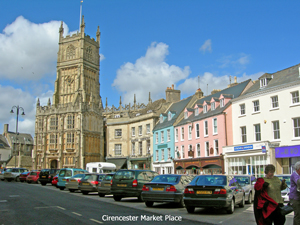 I, on the other hand, was distraught. I turned 15 the week before we moved and only had a few weeks of Year 4 left. The thought of leaving all my friends and having to go to a new school seemed nothing short of cruel. I can remember begging to go and live with my Nanna & Grandad, but Mum & Dad were having none of that. They'd made their decision. It was to be a better life for us and of course a better salary was never to be sniffed at.
I never really did fit into the new school and although I did make a few friends, groups had already been formed. It didn't help that the curriculum was completely different and that I had to do 2 O'level subjects by correspondence course with my old school. I had to sit in the Headmaster's study to do these and sometimes, horror of horrors, he would sit in there with me if he had work to do. Back in Oldham I'd had my own group of friends and I'd mapped my life out. I was going to the new sixth form at school, then Uni, then I was going to become a teacher.
Instead, I ended up at Deer Park School in Cirencester counting the days to the end of Year 5. I left as soon as I'd done my O'levels and enrolled to study shorthand and typing at the small secretarial college in the town. I fared better here and made some good friends. It's a cute little college isn't it. I think it's an adult learning centre now.
After 7 years my Dad's job took him back up North. Of course by this time 3 of us were in our late teens/early twenties. All settled down with jobs, boyfriends and in mine and my sister's case, properties. So after taking 4 of us down there they moved back with only my youngest brother who was 14 at the time.
Anyway, this is where my sister has lived for the past 31 years. She was only 12 when we moved and slotted in a lot easier than I ever did. Her life now is that of a southerner and mine is that of a northerner and neither of us would really want to swap places with the other.
I'm glad she stayed there actually. It's lovely to go back and visit them, the town is beautiful and the villages are lovely. It's not uncommon to bump into a 'Royal' or two either which is always exciting. Back in my day, Princess Di would often be seen in town enjoying a bit of retail therapy with bodyguards in tow. And of course Wills & Harry are regulars at Cirencester Park playing polo.
However nice it is though, there's no place quite like home and I'm always glad to cross that Northern border again until next time!
xxx