It's a funny thing when something major happens health wise. For some people it can completely change them and alter their whole outlook on life. For others like myself, life just plods along as it's always done.
After my heart attack I didn't come home from hospital thinking "I've got to do a bungee jump, see the great wall of China or live with gorillas in the wild for a week before I die".
I came home and my only thought was "I'm 45, I want to see my kids grow up and I'm not ready to die".
As well as the physical effects I was definitely affected mentally by what had happened. It's mentioned very briefly in a booklet that I was given that depression is common, but nothing was mentioned about becoming consumed with the fear of just dropping dead. For the first few weeks all I could think was, 'any minute now it could happen again and this time I might not be so lucky'. There isn't a day that goes by where I still don't think this, but gradually these thoughts are becoming less frequent.
I told Mark how I was feeling and he decided it would be good for me to have some things to look forward to throughout the year, so he set about booking some breaks and holidays that we could all enjoy and that became milestones for me to reach.
To be honest, I just went along with all this, thinking "well, if I'm not here, it'll do Mark and the kids good to get away".
We decided not to do anything until Easter to give me some time to get over what had happened and to get the majority of the tests that I'd been booked in for out of the way.
First up was a week at Talacre Caravan Park, North Wales. We've stayed here a few times and we really like it. It has an indoor pool, bar & restaurant and just across the road there are a couple of cafes, arcades, shops and the beach. The facilities meant that we didn't need to move off site if we didn't want to, which we didn't.
I was really nervous about going to be honest. I didn't want to be away from my home, my GP and the hospital just in case something happened. Mentally, this was the first big hurdle I had to get over.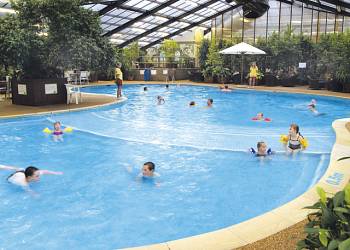 We took things nice and easy though and pleased with how I'd coped, we booked a long weekend in Lytham St Annes for May Bank Holiday. We've been going here since before the children were born and we love it. We stayed in a hotel on the seafront and this time I felt confident enough to venture out and do all the things a normal family would do. We walked on the beach, hired a pedal boat, spent money on the pier and ate ice-creams on the prom. I even had my first glass of wine since January. I did more physically on this holiday than I'd done for a long time and I survived, so another hurdle was gotten over.
Then of course, came our holiday in Cofton. I really felt out of my comfort zone with this one, being so far away from home. It was all I could do to stop myself from looking up the nearest hospitals and how good their heart surgery statistics were before we went. But if you've read the post, you'll see we had a wonderful time and once again I lived to tell the tale!
From the outside looking in, I probably look just like an average mum having
fun with her family. But some days if you spent an hour inside my brain you'd be exhausted with all the thoughts that flood in.
And now, I've got another challenge to face. Because in the first week of the school holidays we are going to Italy and this brings with it a whole new set of worries. Firstly, I'm terrified of the plane crashing! Then of course, there's me. Will I get a DVT? What if I have a heart attack while I'm flying? How far away from the hotel is the nearest hospital? Will they be able to do heart surgery? Will they even bother because I'm not Italian? I cannot begin to start to tell you how nervous I am about going abroad, but I keep thinking if I can just do this, my life will be pretty much back to how it was before 1st January.
I've never yearned for great excitement or adventures in my life. I'm quite happy with what we do and what we've got and I'm lucky in that there's nothing I've had to give up or change since my heart attack. So, I think this holiday will just affirm that I can still do everything that I did before it happened and everything has been OK. Does that make sense?
After this holiday though I think I'll give myself a break.
I'm still here, thankfully, and I think the milestones might have to be curbed from a financial point of view as well. Touch wood I seem to be doing OK and I can't keep going on holiday
!
My future mental milestones are getting through the six weeks holiday, Thomas' birthday in November, Christmas and of course New Years Day. It will have been a year then and although I don't think I'll ever truly banish the worries I'm hoping things will get better with time.
xxx